Pan American 66B "Prom" Model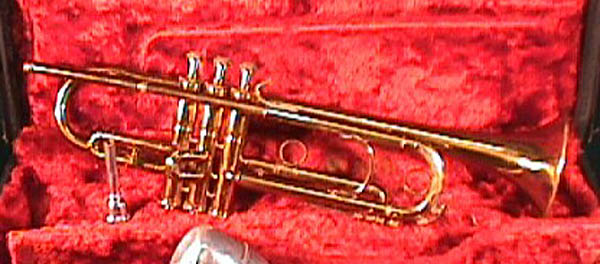 Date: 1931-1948. Owner unknown
The Pan American 66B has a #½ (0.425") bore. Now that is what I would call a "pea shooter". It was produced as the 30B between 1919 and 1931, and as the 66B from 1931 to roughly 1948.
The name "Prom" model appears in a 1935 catalog from the Fischer music company. There is every reason to believe that the names, pictures and descriptions are the same as they would appear in Pan American publications from 1935. The 1938 Pan American brochure doesn't have that name with the 64B, so perhaps it was dropped at some point.
What Pan American said in 1935:
The "Prom" has an unusually clear, sweet tone of great penetrating power. The new valve action is slight and fast. Gracefully curved braces, finger rings on both third valve and tuning slides, comfortable fingerhook, and perfect balance add to the excellence of this model.
19 inches long - 4½ inch bell. Weight 2&frac14 pounds.
66-B-4. Polished brass
66-B-2. Satin silver, gold bell
What Pan American said in 1938:
Has new "Slik-Valves" assuring long life, speed and ease of action. Fine tone, great volume, true scale. Built in Bb, A. Length, 19 inches; 4½" bell.