Conn 80A Victor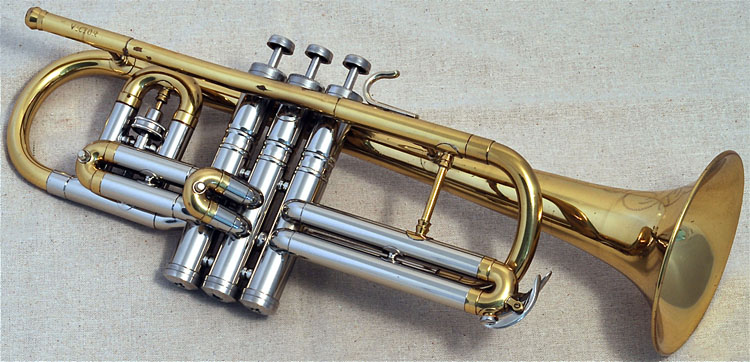 Date: 1959, Owner unknown, picture courtesy of Al Gottesman at Lauderdale Wind Inc.
Notice the micro-tuning mechanism or "opera glass" just forward of the first valve. This is the version of 80A produced from 1955 onwards. The main difference between this version of the 80A and the previous model is nickel trim, and perhaps this version is somewhat heavier. I am told the 80A has a duo bore or "expanding bore" main tuning slide: the top half is a #2 (0.468") bore, the bottom half is a #2½ (0.484") bore.
Models of 80A that were produced during 1953 and 1954 have (I assume nickel-) plated slide ends. For all intents and purposes it looks like someone put a silverplated slide on a lacquered instrument. I suppose you could say these were transitional models leading up this 1955 version of the 80A.
A member of the Trumpet Herald Forum with experience on the 80A has this to day about using the 80A with various style mouthpieces: "The 80-A's are very mouthpiece sensitive, in that the tonal characteristics change greatly with the mouthpiece choice. If you use a deep cup, such as a Wick or one of the various vintage cornet cups, it gets a very rich, velvety sound to the tone, but loses projection. Put in a fairly deep bowl cup, and the projection gets better, but tone brightens a bit. Put in a Bach C cup of your choice, and you can hang with the trumpets for brightness. Go to a shallow cup and tight backbore, and you can get a laser beam sound."
What Conn said in 1956:
Year after year this is the favorite of many of the world's greatest cornet soloists ... the standard of comparison for all-round cornet performance. Bore is calibrated for big, mellow tone. Features exclusive Conn Clickless Crysteel bottom spring valves, "opera glass" tuning device. Length 18", weight 2 lbs. 15 oz., bell diameter 4 5/8". Outfit includes attractive durable Victor case with correct mouthpiece and music lyre.
Highly polished brass, nickel trim, clear lacquer overall. Also available: satin finish silver plated, brilliant gold inside bell.
What Conn said in 1959:
Year after year this model is demanded by some of the greatest soloists. Large bore gives big tone and Clickless Crysteel valves provide fast, smooth, quiet action. Features on the 80A: opera glass tuning, large bore short model design, clickless single pin type valves, cornet "band sound", Lustre-Conn finish. Length 18", bell size 4 1/2".