Conn 77A Connquest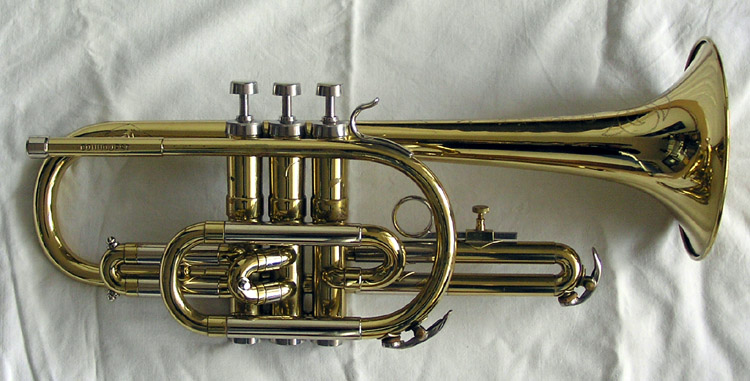 Date: 1957, Previously owned by Christine Derksen
The Conn 77A Connquest has a #1 Bore (0.438"), and is somewhat unusual in that respect since most Conn short model cornets appear to be of a much larger bore. The 77A has top spring valves. The instrument pictured has the older style valve caps which were in use in 1957. Models produced from 1958/1959 were equipped with the new style of valve cap, an example of which can be seen for clearly on the 9A Victor on this site. The 77A does have an adjustable third slide finger ring; the holder and tightening screw can be seen in the picture. The particular instrument is missing the ring itself though. The 77A was produced between 1957 and 1961. In 1961 it appears to have been replaced by the 76A Connquest, which has a #2&frac12 Bore (0.485"). The Conn 77A Connquest looks very much like the ever popular Olds Ambassador, and might well have been a copy of that instrument.
As far as I can tell at this point, all Conn cornets built before 1958 take a short shank cornet mouthpiece as opposed to the 2¾" "Bach-style" long shank cornet mouthpiece. The long shank cornet mouthpieces won't properly fit a pre-1958 Conn cornet and won't give the proper intonation or playing characteristics of a short shank cornet mouthpiece. All of Conn's "Connstellation" cornet mouthpieces are long shank mouthpieces. The "Improved Precision" Conn mouthpieces such as the Conn 4 are long shank if there is a "ridge" halfway down the shank, and short shank if there is no ridge (in which case it is a "Precision" mouthpiece). All Conn cornet mouthpieces built before the "Improved Precision" series (ridge), such as the "Precision" series (no ridge) are short shank mouthpieces.
What Conn said in 1957:
The all new cornet for the student who wants a cornet of professional caliber at the price of the beginner's instrument. Acoustical qualities are the finest including the true cornet tone with accurate intonation. New clickless crysteel top spring valves with a nylon guide plate to minimize valve noise even more than ever before. Adjustable ring on third valve slide. Length 17", weight 2 lbs. 10 oz., bell diameter 5 1/8".
Highly polished brass, beautifully nickel trimmed, protected by longer lasting, acid resistant LUSTRE-CONN finish. Also available with satin finish silver plated, brilliant gold bell.