Conn 71H Artist Symphony Bass with F rotary attachment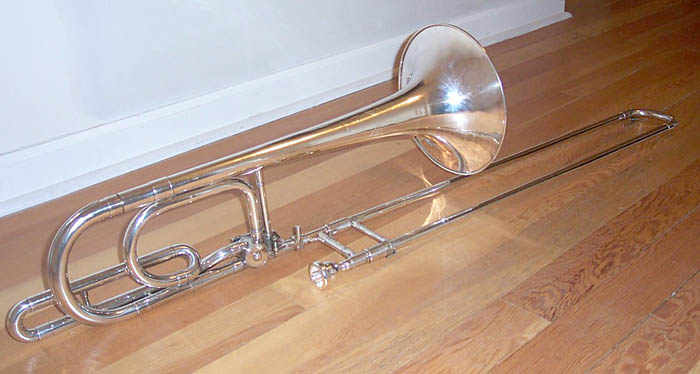 Date: 1970. Owned by Tim Zwicky
The 71H is similar to the 60H: it is a bass trombone, single rotor. The difference with the 60H is that the 71H has a regular brass bell as opposed to the 60H's red brass bell, and the 71H has the main tuning slide in the bell, whereas the 60H's main tuning slide is in the slide. The 71H has the same #5 (0.562") bore as the 60H. Like the 60H and 62H, it was produced from at least 1968 to 1972, and was probably discontinued sometime between 1973 and 1980. In a 1969 ad featuring the 60H, 62H, 71H and 73H, Conn says: "We have just created the 4 finest bass trombones in the world...".
What Conn said in the 1970's:
Widely used in symphony orchestras, concert and studio bands. Beautifully resonant tone. Has F rotor with E pull plus full 7th position for complete chromatic range to pedal Bb. Using the overtone series of each valve note gives the player use of two horns in one: Bb and F. The combination of extended low range and use of the F horn overtone series, as alternate positions, gives the instrument great flexibility and unlimited possibilities. The F slide can be pulled out so that the instrument can be pitched in E. This enables the player to play a low B in b7 position. Brass bell. Lustre-Conn finish over polished brass with nickel trim. Bore 0.562". Bell diameter 9½". Length 46".