Conn 6M "Standard" Alto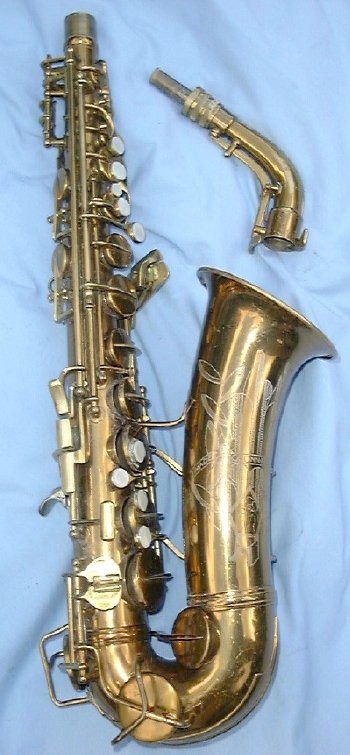 /p>
Date: 1936. Image by VintageSax
Instrument is silverplated, and has rolled tone holes. The 1935 models don't have an underslung octave key. It is brought back in 1936 (as is visible in the picture). Apparently the over-the-top octave key remained a custom option throughout the life of the 6M. Models after 1948 didn't have rolled tone holes. Conn dropped the microtuner neck (visible in this picture) in 1954. This instrument is lacquered, but 6M's were also available silverplated. Also see 6M-Transitional. (source: Saxpics)
These instruments are sometimes called "Naked Lady" models or "M" models. The "Naked Lady" refers to the engraving often seen on the bell. There is a misconception that the presence of the Naked Lady engraving and how much of the Lady is visible is an indication of the quality of the individual instrument. Noted Conn researcher Dr. Margaret Downie-Banks says that there is no truth to this. In its catalogs Conn called these saxophone "Standard Saxophones".
I gather that the 6M is considerably more mouthpiece friendly than the 10M Tenor, apparently causing fewer intonation problems when used modern mouthpieces. At the time most mouthpieces apparently had large, round chambers.
In the following video Matt Stohrer gives an in depth overview of the mechanics of the microtuner found on certain models saxophone including this "Standard" Alto: Saxophone Repair Topic: Assembly of the Conn Saxophone Microtuner .
What Conn said in 1939:
Whether you are interested in the alto, tenor or baritone, when you buy Conn you can be sure of getting such important and exclusive improvements as Hydraulic Expansion; drawn-rolled tone hole sockets, that will not leak or cut the pads; adjustable pivot screws, that will give light, positive action and will not vibrate out of adjustment; Red-O-Pads, that will increase resonance and add brilliance to your tone; new, hard keys, that give that confident "feel" when you touch them; reserve power - that extra "sock" and "kick" produced without straining; new design octave socket, that helps "buzzy A" and gives quick response and brilliance to upper register; raised high E key; and others. On the alto and tenor you have also the C-D trill, G# trill, new table keys - all three patented and exclusive on Conns. On the alto you have tuning device and bottom mouthpipe key - two more patented and exclusive features. Steelay mouthpiece standard.