Conn 5A Victor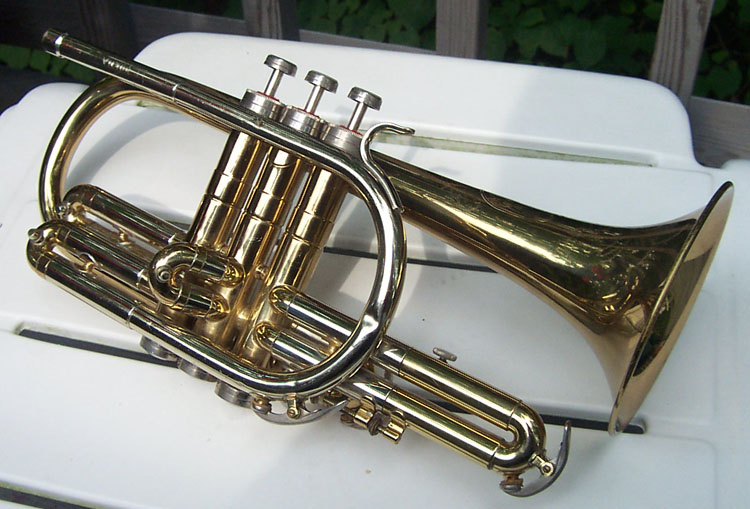 Date: 1967. Owned by Bill Posey
The 5A is the non-Coprion version of the 9A, and the short model version of the 6A Long model Victor cornet. A 1966 catalog picture shows that the 5A has a nickel plated leadpipe, but not a nickel valve casing. This particular 5A is missing the 3rd slide ring, which on this model is angled up.
The 5A Victor has a #2½ bore (0.485"). I strongly suspect it has top spring valves. Like other post-1960 (-ish) Connstellation and Victor models, it has a third slide stop screw. It was introduced sometime in 1961, and was produced until at least 1971. The appearance of the 5A coincides with the end of production of the 6A Victor long model cornet.
Features include Lustre-Conn finish and for the 1961 and 1962 models Tri-C valves.
What Conn said in 1963:
Two [other is 9A] outstanding short model cornetsfor the advanced student and professional. Features include: Twelve special-design braces for greater durability, separate bell and mouthpipe cleanout slides, nickel outer slide with brass inner slide for finer, longer-wearing bearing surface, adjustable third valve slide stop. Specially designed to assure a comfortable hand grip. 5A has a nickel-silver mouthpipe and brass bell. This model has a "medium-bore" feel. Less than 14 inches long!
What Conn said in 1966:
Outstanding short model cornet for advanced student and professional. Balanced design. True cornet sound is well centered and highly responsive. Special left hand grip eliminates cramped position. 1-piece mouthpipe-mouthpiece receiver, third valve throw ring, micro-finish mouthpipe, 12 special braces. Length: 15". Bell: 4¾".