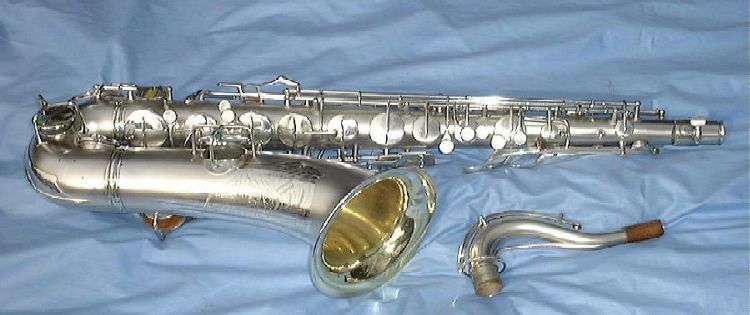 Date: 1931, Image by VintageSax
Instrument has rolled tone holes. This is a transitional model to the 10M.
What Conn said in 1931:
The Conn tenor is second in popularity only to the alto, having in recent years forged ahead of both the Melody and the Bb Straight Soprano. This instrument is essential to any ensemble of saxophones and in the band and orchestra.
The Conn tenor is particularly fine in intonation and unusually rich in tone coloring. Its rich and mellow voice make it an excellent solo instrument and it is widely used for this purpose. While it lacks some of the brightness of the higher pitched saxophones, it has a compensating depth, fullness and sympathetic coloring in its voice which has won for it a host of appreciative admirers. In this model, as in all Conn saxophones, the exclusive Hydraulic Expansion Process produces a glassy-smooth inside surface for carrying the delicate tone waves, and the integral, rolled sockets pulled from the body metal, produce lifetime, leak-proof tone hole sockets. The Conn tenor is being used by a host of the outstanding saxophone artists, not only of America, but in many countries overseas.