Conn 40K BBb Sousaphone Grand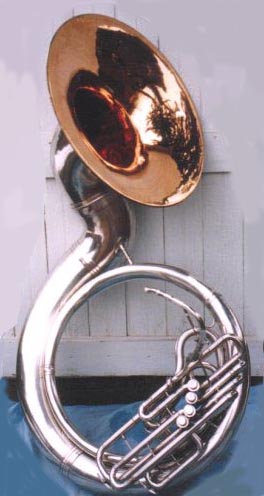 Date: 1923. Owner unknown, rebuilt by Harvey Hartman.
The 40K Sousaphone Grand is the four valve version of the 38K Sousaphone Grand, which has three valves. This particular instrument is silverplate with gold burnished inside the bell. At the time it would therefore be known as a "40-K-2", the "2" being the finish.
What Conn said in 1931:
Conn sousaphones are the direct lineal descent of the original sousaphone. Conn created this popular instrument especially for Sousa's band 25 years ago [1906] and no other sousaphone on the market has the rich background possessed by the Conn sousaphone. This accounts, in great measure, for the exceptionally fine intonation, the smooth, flexible scale, the ease of blowing, and the artistic finish and outward appearance, which qualities have won the foremost position for Conn sousaphones.
The Conn sousaphones are used in many of the finest bands and orchestras in the world and are highly praised by many of the world's greatest sousaphone artists. Among the famous organizations using this excellent bass are Sousa's Band, The Royal Band of King Alphonso XIII of Spain, the famous Mexico City Police Band, the renowned University of Illinois Band and the Joliet, Illinois High School Band, national champions for three successive years, 1926, 1927 and 1928.
The Conn Sousaphone Grand bass is a champion whose big, flashing bell towers above the heads of some of the finest bass players in the world and whose majestic, deep-intoned voice has stirred thousands. There is no finer.
Return to previous page