Conn 2K/3K Eb New Wonder Helicon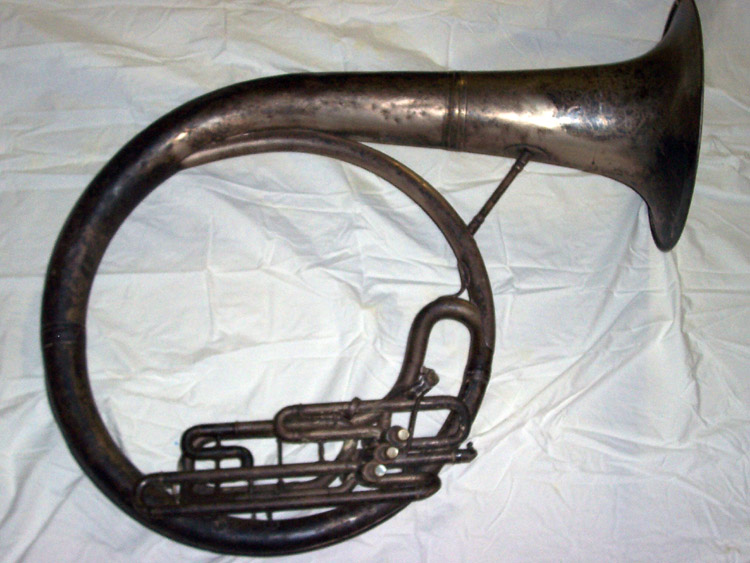 Date: 1926. Owned by Michael Keller
The Eb New Wonder Helicon was available in 4 versions: the "Standard" 2K Low Pitch, "Standard" 3K High Pitch, and 42K "Giant", 10K Low Pitch, "Giant" 11K High Pitch. All had three valves. The 2K/3K and 10K/11K were in production from 1919 to at least 1927 and were probably discontinued in 1929. The difference between the "Standard" and "Giant" versions lay in the size: The Giant were about 4½ pounds heavier, 5 inches longer, 2 inches wider with a 4 inch larger bell.
What Conn said in 1926:
For marching purposes the Helicon Basses of the type shown on this page and the one opposite [30K, 31K] are by far the most popular. While they provide the same deep, sonorous tones as the Sousaphone and Sousaphone Grand models they have the advantage of several pounds in weight, a very important factor for the consideration of of the marching band. The bells, however, are not detachable, owing to the necessity for solid bracing.
It should be remembered that these models have been designed especially for marching bands. The balance of the instrument has been carefully worked out so as to provide the greatest ease in carrying, and the quality of tone is especially effective in military bands.
The Eb Helicon Basses listed on this page are built for the benefit of those who are familiar with an Eb instrument, and are a trifle smaller than the BBb models. These Conn Helicons are used in mostof the celebrated military bands of the American, Canadian, English and other armies.
Return to previous page