Pan American 48M Alto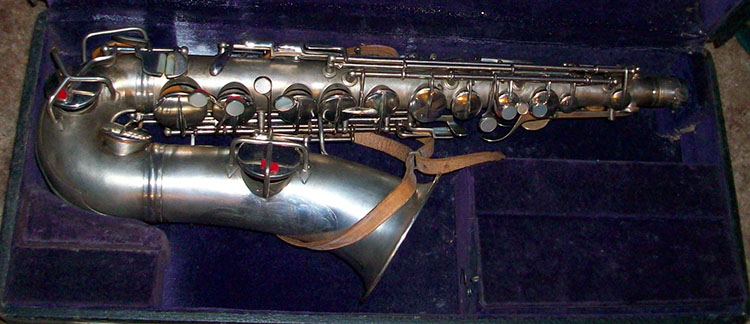 Date: 1920's. Owned by Daniel Smith
The Pan American 48M was produced between at least 1925 to 1929. Sometime between 1929 and 1931 the Pan American Eb Alto Saxophone model became the 64M. The 48M was available in brass, nickel, silver with gold bell, gold and burnished gold.
What Pan American said in 1927:
The PAN-AMERICAN Eb Alto Saxophone, with its sweet clear tone and perfect intonation, has rapidly gained recognition as one of the most versatile instruments in the saxophone family, and today it is outselling all models. Whether you use it at home, in band or orchestra work, with saxophone combinations, or in solo work, this alto will serve you to your complete satisfaction. Practically all orchestra and band arrangements, as well as saxophone arrangements, provide Eb alto parts, so transposing is usually unnecessary. The PAN-AMERICAN Alto is equipped with drawn tone holes of course, the latest approved key mechanism, new style upper side keys for high E, Eb and F - and it is furnished complete with mouthpiece, cap, reed, ligature, music lyre and neck chord.
You are invited to give this splendid PAN-AMERICAN Eb Alto a thorough trial - that you may best appreciate its many advantages.