Conn 6D Artist F-Bb Double French Horn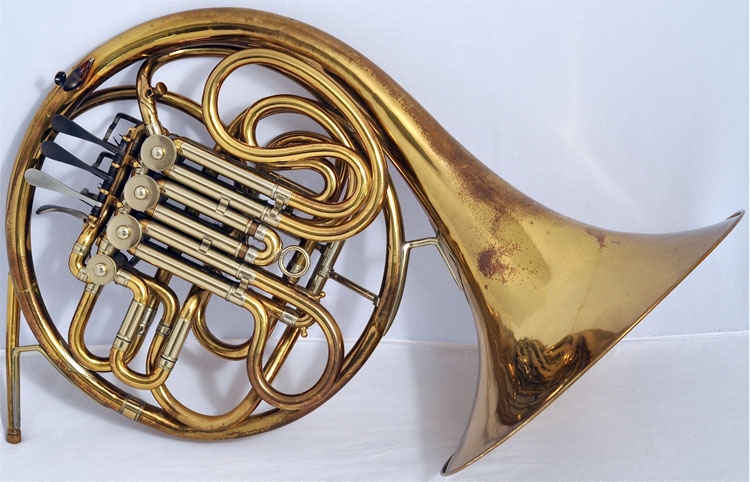 Date: 1935, Owner unknown, picture courtesy of Al Gottesman at Lauderdale Wind Inc.
This 6D is called the "Stagliano" model. I read that this is after Jimmy Stagliagno, principal horn in the New York Philharmonic. The main difference between this 6D and the previous 6D model (the "Schmidt" model) is that the "Stagliano" 6D has a rotary change valve for F-Bb, while the "Schmidt" 6D had a piston change valve. The bore size is a #2, which is 0.468".
What Conn said in 1938:
The new 6D double horn is the favorite with big symphony players and particularly first chair men. It is built in F, but length of tubing can be cut off by operating a rotary valve which throws the horn into Bb. This feature enables the player to select his horn to advantage for different key signatures and also gives the performer more open notes, which gives a richer and more uniform tonal coloring. For instance, C, D, E in the staff are open on the F horn, while F and G are open on the Bb horn, and A is open on the F horn. By having the double horn the scale from C to A can be played open. The scale is exceptionally fine and it blows with surprising ease, due to Hydraulic Expansion and the elimination of all sharp bends in tubing. The mouthpipe, one of the most critical spots of the horn, was selected unanimously by big symphony players from among 14 experimental mouthpipes. Much experimenting was also done with the bell and bell branch. These have a great deal to do with the response of a French horn. The edge of the bell has been specially worked down to almost paper-thinness, to give good tonal quality. With the new rotary change, this horn is everything a fine horn player could want.
What Conn said in 1959:
Popular double horn for the players who like the "brass full tone". Accurate tuning in exceptional long range is assured by Cali-Bore process. Same fine watch like precision tapered rotors give smooth action for rapid passages. Truly an artist's horn with features that help improve any player's performance: Cali-bore, tapered rotary valves, balanced tone in all registers, Lustre-Conn finish. Bell size 12¼". Also available Butler silver plated with silver inside bell.
What Conn said in 1966:
Popular among professional musicians and advanced students for its extreme range and versatility, Full open throated brass bell gives the 6D a traditional, exciting French horn sound. Brass with nickel trim. Bell size 12¼".