Conn 6B Victor "Early Model"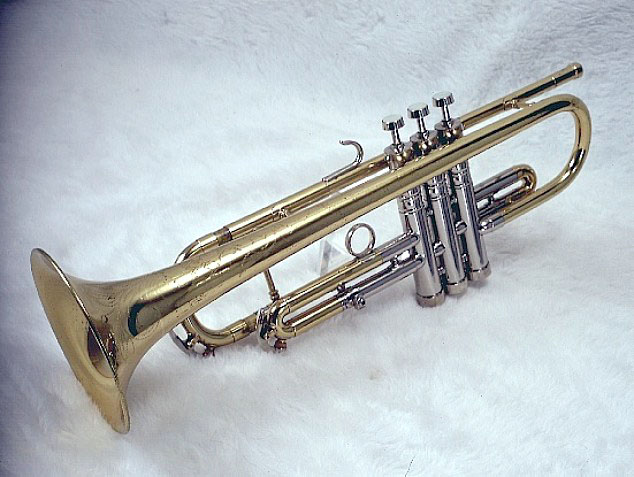 Date: 1956-1957. Owner unknown, picture by Paul Ayick.
I suspect this instrument was built between 1956 and 1957 on account of the style of the top valve caps and the fact that it has a fixed 3rd valve ring and no coprion leadpipe. 1955 models are the same as the 1956-1957 models except they have a style of valve cap similar to those on the 28B Connstellation. The "Early" model 6B victor has bottom spring valves. The 6B Victor "early" model was produced from 1955 to 1957 and has a #1 bore (0.438").
How to tell a 6A Victor long cornet and a 6B Victor trumpet apart? The differences are quite subtle, but you should be able to tell if you know what you are looking for. All models for which there is both a long cornet and a trumpet (6A/6B, 10A/10B, 28A/38B) have a letter "A" or "B" stamped on the mouthpiece receiver. An "A" indicates a cornet leadpipe, a "B" indicates a trumpet leadpipe. The second way is to look at where the leadpipe widens out to accomodate the main tuning slide. On a trumpet this happens directly after the leadpipe finger hook, on a long cornet about an inch further down the leadpipe from the fingerhook. See picture.
Also see the 6B Victor "Late Model".
What Conn said in 1957:
Scientific design with acoustical qualities similar to the Connstellation 38B... exactly the same in every respect as the 10B Victor except for the bell, which is high quality brass instead of Coprion. Clickless crysteel valves with bottom spring give fast, postive, quiet action. Length 21 3/4", weight 2 lbs. 13 oz. Bell diameter 5 1/8". Outfit includes handsome new Victor case, music lyre and correct mouthpiece.
Highly polished brass, beautiful nickel trim, protected by longer lasting, acid resistant LUSTRE-CONN finish.
Return to previous page