Conn 58B New Era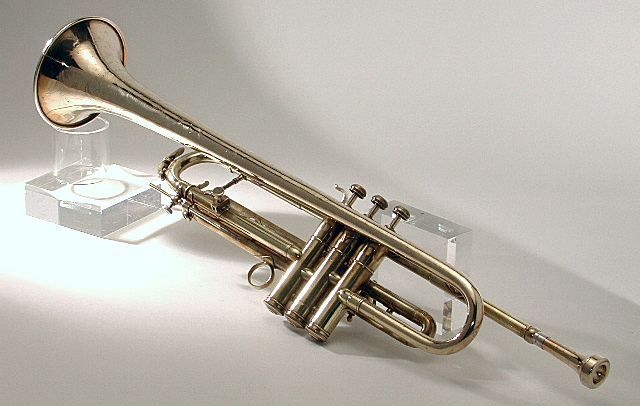 Date: 1929. Instrument owned by Paul Ayick.
Notice the position of the third slide ring. Also note that the position of the third valve slide and the tuning slide on the third valve casing are reversed from the usual/modern way. The 58B New Era had a #1 bore (0.438") and was built between 1928 and 1938.
What Conn said (around 1928):
In harmony with the modern vogue for smarter lines, greater beauty, lighter weight and higher efficiency, Conn has manufactured the New Era trumpet. Besides the features of general appearance, the New Era possesses greater brilliancy of tone, velocity of performance, facility of control and ease of blowing which are equalled by few trumpets and surpassed by none.
Although built with the same bore, same taper and of the same gauge and quality brass as the famous New York Symphony trumpet, 22B, the New Era possesses a scintilating brilliancy and carries power never achieved in any of our trumpets.
The New Era is fully one inch longer and one inch narrower than the older trumpets. Both features lend grace and charm to its appearance. The valves are of new and fool proof design. The New Era is unquestionably the instrument for the modern trumpet player.
What Conn said in 1934:
The New Era model set a new style in trumpets back in 1928. It becane so popular that practically every manufacturer was forced to add a long model trumpet to his line. But only Conn makes the genuine New Era. No copy has ever quite equalled the original model - copies never do. Today's New Era are even more brilliant in performance and striking in appearance. Originally in small bore only, this model is now also built in medium bore to meet the demand for a little larger tone. The quick responsiveness and smooth, even, flexible scale of the New Eras give dazzling speed in all registers. They are particularly fast and easy to blow in the upper register. Their crystal-pure trumpet tone "cuts through" everything and makes their performance the talk of any musical organization. For real "hot and sizzling" playing, the New Eras are hard to beat. Equipped with the new Clickless Crysteel valves, their valve action is even swifter and lighter. Their new engraving and bracing have made them even more modern and sporty. They make heavy engagements pleasurable and easy. Small bore, 58B; medium bore 10B. Key of Bb and A, Clickless Crysteel valves.