Conn 4H Artist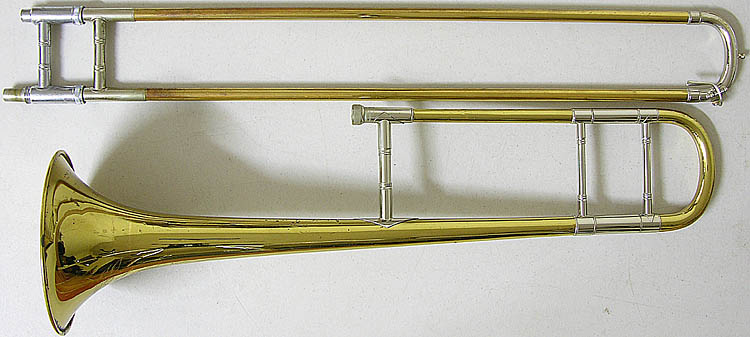 Date: 1949. Owner unknown. Picture courtesy of Al Gottesman at Lauderdale Wind Inc.
The 4H model was produced under several names and variations more or less continuously from at least 1919 to 1958. The 4H Artist pictured here was in production between 1940 and 1954. It has a #2½" bore (0.485"). It was available with standard or optional lightweight slides. The 4H was the brass bell version of the 12H Coprion.
What Conn said in 1941:
The 4-H Artist model has made trombone history and is still one of the most popular trombones used. It is a favorite in solo work, dance, radio and recording, and in concert band. It has a perfection of scale, and ease of response, and a beauty of tone to be found in few trombones ever built. Built in Bb, medium bore, tuning slide in bell. Equipped with the Conn slide lock and bell lock. Bell forward in conventional position.
Optional on the 4-H are special lightweight slides. Although the slide sidewalls are of standard thickness and no sacrifice of tone quality has been made, ingenious design has eliminated 3 ounces.