Conn 2C New Wonder Alto Horn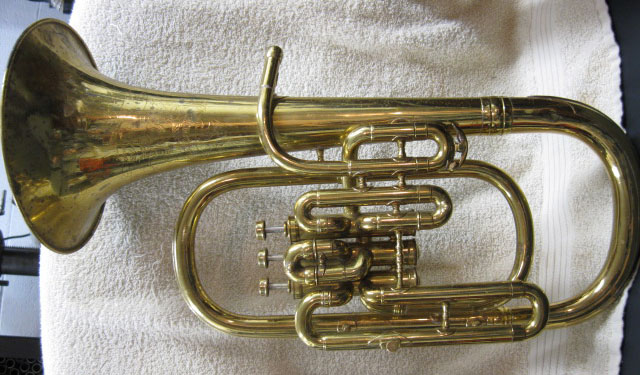 Date: 1917. Owned by Juan Novo
The 2C New Wonder Alto Horn was a top action, bell up instrument. The front action bell up version was the 4C. It had a #3 bore, which is 0.500". Built between sometime before 1919 and 1936. The lacquer seen on this particular instrument is without doubt not original, since Conn didn't start lacquering instruments until the early 1930's. Nevertheless it may have been applied many years ago.
What Conn said in 1919:
Conn Ltd. Upright Altos are unequalled for brilliancy of tone, quick, light valve action, perfection of intonation in all keys, solidity of construction, artisticness of design and ease of blowing.
The Alto of this model is preferred by many for marching and other outdoor engagements. Its tone is full and resonant and carries a great distance.
Many performers of the French Horn, Circular Alto or Mellophone possess Upright Altos for parade engagements only, claiming they receiver greater satisfaction thru the use of this model for such work.
Conn Ltd. Altos of the upright models are built with either front or top action. They are in the key of Eb and constructed in either High or Low Pitch or both. They can be supplied with a D or C crook. The tuning slide will be seen in the mouth-pipe leading to the first valve. A water key is attached thereto as a water drain in order to prevent a possibility of the water entering the valves which mightb thereby cause a gurgling sound.
The Upright Altos are in as great demand as in the past and the Conn New Wonder Models are recognized as superior in all respects by discriminating performers.