Conn 28J Monster Front Action BBb Bass Bell Up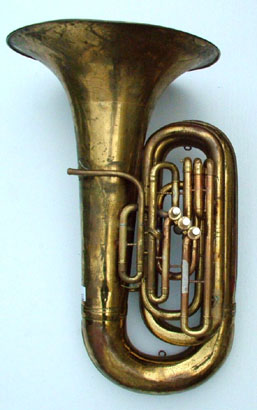 Date: 1925. Owner unknown
The "Monster" family includes the 26J and 27J which are 3-valve, top action BBb basses, the 28J and 29J which are 3-valve, front action BBb basses (pictured here) and the 32J and 33J which are 4-valve, front action BBb basses.
What Conn said in 1927:
The Conn "Monster" BBb Grand Basses are the Tuba Grands of the world. The artistry of design and superb blowing qualities which these instruments possess have given them the place of honor in all the bass family. They are not given unusually wide bells to give the appearance of a tone they do not possess, but are built with the scientific accuracy for which all Conn instruments are noted, and the bells are proportioned to the rest of the instrument.