Conn 25J Artist Bell Up BBb Recording Bass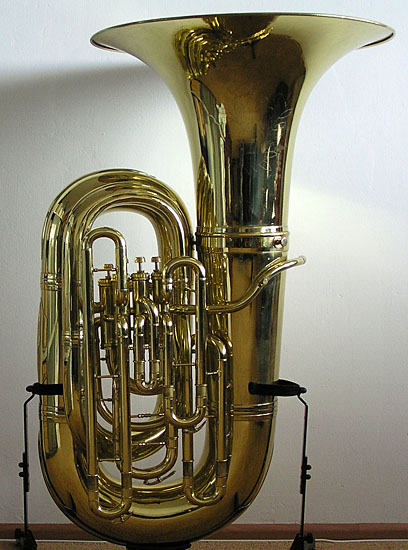 Date: 1957. Owned by Bram Smithuis
The 25J has four valves. Notice that the text below doesn't include the phrase "Lustre-Conn finish". The 25J has a 0.773" bore size, which is a #11¾ bore. The 25J was produced between at least 1957 and 1971.
As it so happens the very instrument pictured here was bought by a member of the band I play in, so I have the opportunity to hear first hand what it sounds like: fabulous. It comes in two cases, one for the bell and one for the rest of the instrument. It is a big instrument and weighs quite a bit, but as a result the sound is absolutely wonderful. There are rings to which a strap can be attached so you can play it standing up, but the weight of it makes that impractical: the 25J weighs approximately 31 Lbs.
What Conn said in 1959:
Complete with outstanding features of the 24J Artist model but with bell-up design for the concert player. Equipped with adjustable mouthpiece bit for easy playing position. Short action valves, 1/3 shorter than other basses and hydraulic expansion which protects the inside of tapers makes this model the finest bass in the world. Features: Crysteel valves, extra range with 4 valves, concert bell interchangeable with bell front model for field or parade power. Highly polished brass, clear lacquer finish.
Also available: Satin silver finish with gold bell.