Conn 25B Victor C Trumpet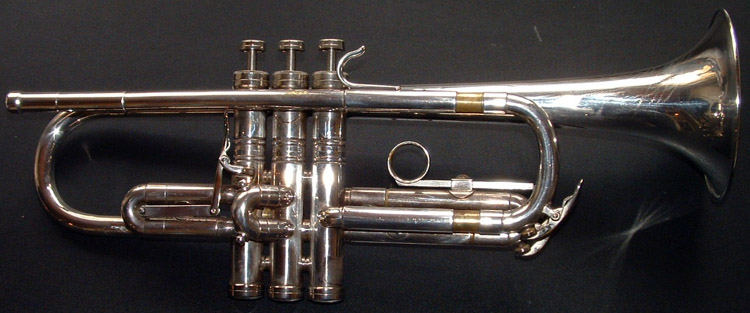 Date: 1961. Owned by Femke Lunter. Original owner: Peter van Loo, Amsterdam Philharmonic
This is a C trumpet, which means that a C on this instrument is a concert-C, and not a concert-Bb as is the case on a Bb trumpet. The easiest way to tell is the fact that the main tuning slide doesn't extend as far towards the bell as it does on a Bb instrument. The trigger on the first slide is original. It also has bottom spring valves, which makes it a derivative of the 1956/1957 Victor trumpets. Might this be an indication that the later 6B and 10B were an attempt to make a trumpet more similar to the popular 38B Connstellation while the older design was at least as good if not better? Except for the trigger, the same can be said for the 35B Victor D trumpet and the 2A Victor Eb cornet. Please see Comparative quality of Conn instruments, part 2 for a longer discussion of this.
As is obvious from this instrument, the 25B was available in silver plate. The picture of the other 25B I have seen showed that the 25B was also available in lacquer. Yes, "the other": I have only ever seen two 25B Victors. My guess would be that silver plated 25B's are even more rare than lacquered ones.
This instrument is also somewhat unusual in that a accurate history is known for it. It was apparently bought new in 1962 by Peter van Loo, first trumpet of the Amsterdam Philharmonic. I am told Peter van Loo played it for quite a few years. It was bought in 1996 from Peter van Loo by Ralph Henssen. In 2005 he sold it to the current owner, Femke Lunter.
I have a picture of a 25B that was made in 1957. However the model number list gives the 25B a start date of 1961, which is consistent with the above pictured instrument. I understand there was (is) a brochure "16 New Sounds for 1962" which included the 25B. My theory is that before 1961 Conn was experimenting with test instruments. There are several more examples of this situation where there is a model with a serial number pre-dating the first year of production according to available publications. The end date of 1969 is a guesstimate; it does appear in the 1966 catalog but isn't mentioned in an early 1970's catalog.