Conn 22I (Artist) Bell Front Bb Euphonium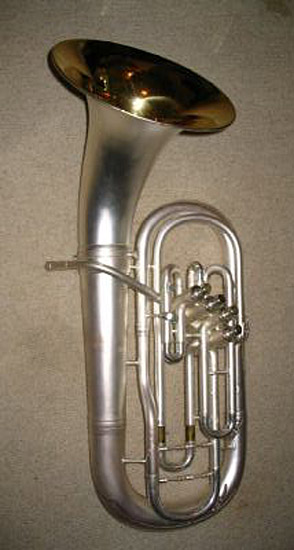 Date: 1940, Formerly owned by Ted Jaderstrom
The 22I is a four valve, front action bell front euphonium. It doesn't appear in the 1940 catalog, although the above pictured instrument dates to late 1940 so presumably that is roughly when production started. I have also seen references to a 1948 model. Probably production was stopped around 1949 because it doesn't appear in the 1950 catalog. However, sometime around 1958 this model was reinstated for a few years. It doesn't appear in the 1962 price list. I suspect it was discontinued when the 24I Connstellation was introduced around 1959/1960. In the 1950's the 22I was called the "Artist" model.
What Conn said in 1958:
Choice of the artists among top players who require the extra range quality of the four valve euphonium. Famous short action valves contribute to the ease of playing. Hydraulic expansion, an exclusive Conn process, contributes to the advantages of Cali-Bore... Cali-Bore from tone chamber to bell flare protects the bore tapers and produces "big sound" required by discriminating band masters. Smooth, faster valves 1/3 shorter action, Crysteel pin-guide valve pistons, extra range, Lustre-Conn finish, interchangeable bell.
Also available: Satin silver plated finish with gold bell. Upright bell, highly polished brass with Lustre-Conn finish. Upright bell, satin silver finish with gold bell.