Conn 21J Artist Bell Up BBb Recording Bass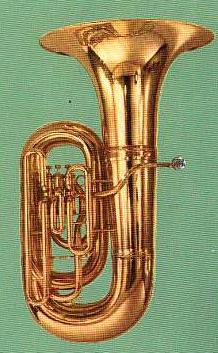 Date: 1959. (Drawing)
The 21J has three valves.
What Conn said in 1959:
Upright bell with the same large bore instrument action built into the 20J model. Increasing in popularity among the concert artists powerful, full bass sound without the brilliance required on the field. Conn short action valves cut the stroke a full 33-1/3% making playing easier, speeds technique. Off center valve stems in a curve to fit fingers better. The exclusive hydraulic expansion process makes this instrument outstanding in tone and easy playing response. Every curved taper is held to rigid acoustical measurements. Highly polished brass clear lacquer finish.
Also available: Satin silver plated with gold bell.