Conn 21I Artist Bell Up Bb Euphonium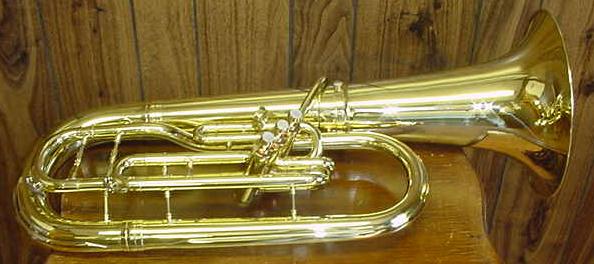 Date: 1968. Owner unknown
The 21I has three valves and a #5 (0.562") bore. It has an 11" bell and weighs 7 lbs 11 oz. The 21I appears to have been in production between probably 1957 and 1971. Since it isn't listed in the 1956 catalog and it definitely was in production in 1958, I suspect it first saw the light of day in 1957.
What Conn said in 1959:
Same exclusive features as the 20I Artist model, but with upright bell to produce the depth of tone, the organ-like sound necessary to satisfy the most discriminating director as well as the artist player. The mouthpipe is built directly to the first valve for improved tuning of low tones, and the balance between the mouthpiece and the bell flare is scientifically accurate for true intonation through the entire range. Tuning slide is beyond valve section. Features: faster valves 1/3 shorter, Cali-Bore, interchangeable bells, pin-guide Crysteel valve pistons, Lustre-Conn finish.
Also available: Lustrous silver plated finish.