Conn 20I Artist Bell Front Bb Euphonium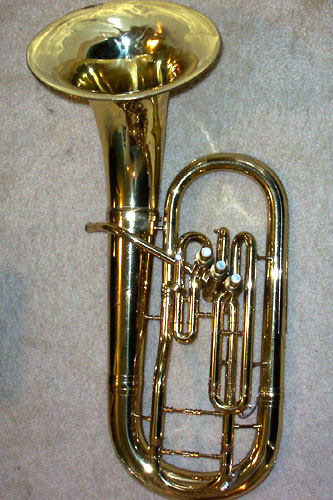 Date: 1964. Owner unknown
The 20I has three valves and a #5 (0.562") bore. It has an 11" bell and an early 1970's catalog puts the weight at 7 lbs 11 oz. However, the 1955 Conn catalog gives the weight as 8 lbs. 1 oz., which supports the notion that as years progressed Conn saved some money by making instruments lighter. The 20I and the 50I were essentially the same instruments, except the 20I had short action valves while the 50I had regular action valves. The 20I appears to have been in production between at least 1938 and 1971.
What Conn said in 1938:
The 20-I Wonderphone single bell euphonium with the new short action valves is similar to the regular 50-I, on which many great euphoniumists have played their way to fame. With a valve action now 12/64 of an inch shorter than the old 50-I, the new 20-I reduces the labor and speeds up the playing of the soloist over 25 per cent. This new model really gives the euphoniumists an edge over the cornetist, for the new valves are actually 4/64 of an inch shorter than regular cornet valves. The Wonderphone bell is adjustable and detachable and enables the player to snap out the big, round, full tone into any desired quarter and to pack the instrument in a small, compact case. Three front-action valves, key of Bb.
What Conn said in 1959:
Engineered for easy carrying on the march, smooth short action valves, full euphonium "sound". Direct mouthpipe to valves construction improves low register tuning. Cali-Bore (true calibration of the inside of the bore) from tone chamber to bell flare adds depth to its full bodied tone and easy response. Faster valves 1/3 shorter than other full bore instruments. Crysteel finish valve pistons, pin-guides, Lustre-Conn finish, interchangeable bells (bell front or bell up).
Also available: Satin silver plated finish with gold bell. Interchangeable upright bell, Lustre-Conn finish. Upright bell in silver plate with polished silver inside bell. Upright bell in silver plate with polished gold bell.