Conn 14I Director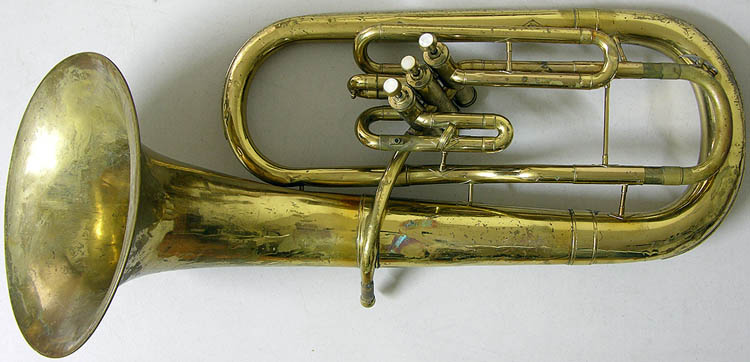 Date: 1966. Owner unknown, picture courtesy of Al Gottesman at Lauderdale Wind Inc.
The 14I was in production between at least 1953 and 1977. The 1955 catalog puts the weight at 6 lbs. 14 oz. This particular instrument looks like it has been through a war, which is probably what most 14I's end up looking like. Since the 14I was a student model, most were probably used in school bands and hence the appearance.
What Conn said in 1959:
The true euphonium built especially for the student player, engineered with the full bore of euphonium, this instrument has stood the school band crucial concert and field tests of power, tone and tuning. Fixed bell cannot be lost or dropped, direct mouthpipe to valves improves low note response and intonation. Hydraulic expansion protects all of the inside tapers of this popular instrument. Crysteel valves are light, smooth, fast acting and trouble free. Only Conn can offer these features: hydraulic expansion tapers, full bore for "band sound", permanent proper position 11" bell, Lustre-Conn finish, Crysteel valves.
Also available: Satin silver plated finish with gold bell.